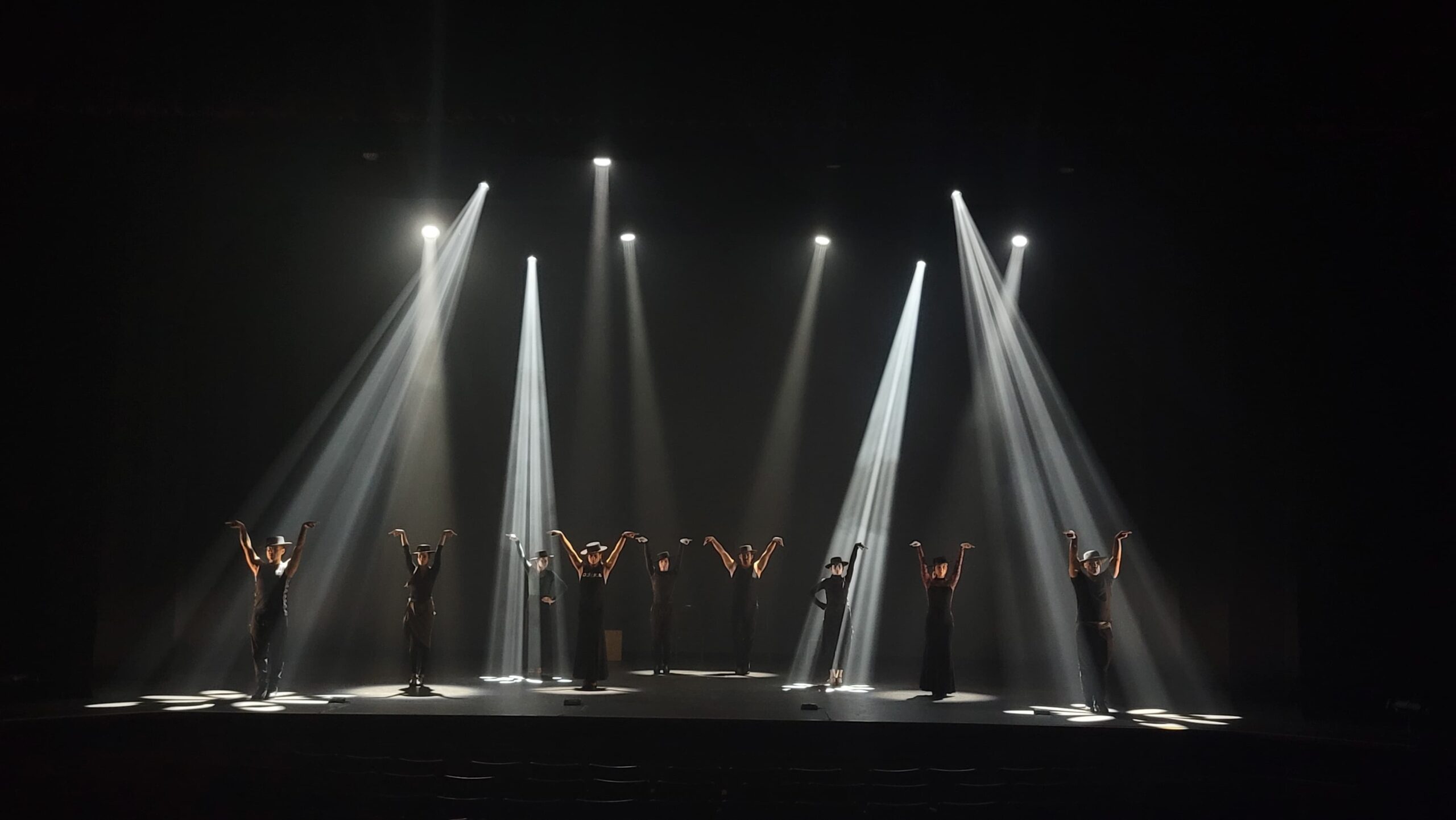 There are many reasons why Dustin L. Derry always embraces the opportunity to light dance performances. High on this list is the opportunity it affords him to depart from the conventional use of colours and patterns.
"What's nice about dance, is you don't have to think so literally about 'natural' lighting," said the Chicago-based designer. "In dance, you can push deep into the surreal and express yourself in new ways to support the choreographer's vision.  You can focus on individual elements, like live musicians, and help blend them into the background, and then pull specific dancers or ideas into the foreground and vice versa depending on the needs of the moment. I don't think this presents any challenges, so much as it opens new doors for me creatively."
Derry stepped boldly through those doors recently, inventively using gobo patterns and coloured key lighting to accentuate shapes and movements of dancers when lighting La Caña, a 14-minute piece that was part of the Flamenco Passion, annual Spanish dance festival sponsored by Ensemble Español Spanish Dance Theater. Helping him along the way were six Maverick Force 2 Profile and eight Rogue R2X Wash fixtures from CHAUVET Professional.
"In this piece, texture became everything for our choreographer Susana Lupiañez ("Lupi") Pinto and me," he said. "Lupi a really wanted to feature the floor patterns the dancers were making as well as the shapes of their bodies.  Two great ways to accomplish this sort of thing are by using gobo/textures that pay homage to the shapes of the dancers and also silhouettes. We spent the majority of the piece in all of these complex layered looks, my programming literally dancing with the performers on stage, and with a powerful stomp of the feet.
"This created some incredibly dramatic looks, such as when we snapped into to a full cyc red silhouette," continue Derry.  "At that moment, there was silence, and then red filling the visual field with the stark, black, shapes of perfectly positioned dancers. That slowly rebuilt into our final push to the climax of the piece."
Positioned, three apiece on the second and fourth electrics, the Maverick Force 2 Profile fixtures were key to helping Derry achieve such dramatic moments. "We arranged the Mavericks to mimic our conventional 'quarter down' specials that you find in most modern dance rep plots," he explained.  "This allowed use to use them as specials, but also full stage washes with a minimal number of units. The choice of gobo patterns they gave us were a great tool. We also had four Rogues on the second and four electrics. They are my workhorse, constantly shifting from producing full stage washes of intense colour, to creating soft edge specials that highlighted moments without being too literal."
Throughout the performance, the artful blend of dance, music and light unfolded an evocative narrative that conveyed nuanced emotions and passions out of the simple and familiar. "Susana, was very focused on the sombreros, and showing us how much power and magic something as basic as a hat can be," said Derry.  "The winding path that the music takes I feel is an exploration of life, finding one's power and own voice in the crowd, and impermanence of life as each dancer drops their Sombrero as they leave the stage, with last notes of the guitar being reminiscent of bells tolling for the death of some unseen force."
Adding another dimension to the dance performance was the presence of musicians seated in a row along the upstage deck. "Adding live musicians to dance is always a bit of a challenge," said Derry. "First being, how to keep them interesting without being the focal point of the stage unless you are specifically choosing to highlight them. The extra bit of zoom one gets in the Mavericks and Rogues, makes this pretty easy to blend seamlessly.
"Our musicians were brilliant and always performed this piece ending consistently within a few seconds, but even so, the timing is such in some sections that there was no way we could timecode the show, " continued Derry. "Instead we needed to rely on our brilliant stage manager Sarah Lackner, who was a pure joy to work with,  to call sequences correctly.  I know some would ask, 'well why not get the musicians to put in some IEM'S and push a click track?'  My answer is 'have you ever tried to get musicians who have been doing things the same way for  years to change?'"
Having musicians on stage during a dance performance presents some challenges, acknowledges Derry, but that's precisely why he welcomed this arrangement.  Expanding your creativity to meet challenges, he says, is what makes dance lighting special.
Share this story