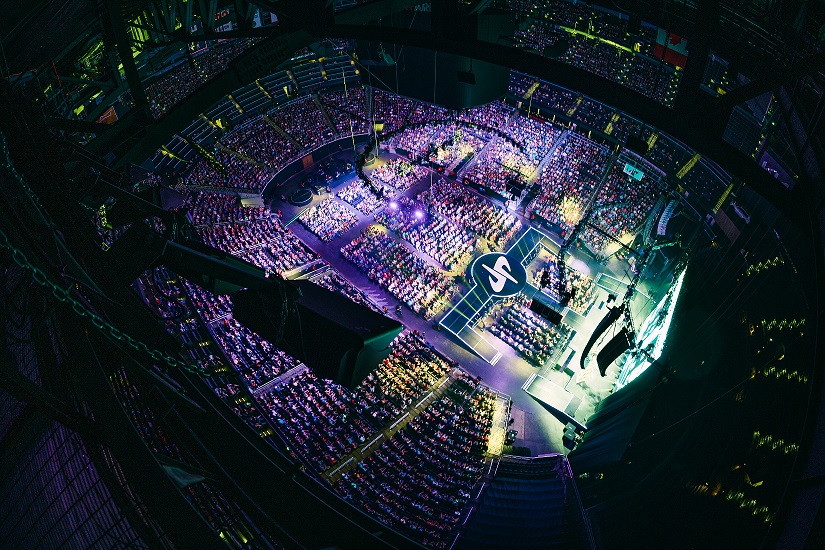 Dude Perfect is always trying to up the ante, whether its trick shots, wild stunts or a friendly competition, and in true Dude Perfect fashion, they took things to the next level with their 2022 Summer Tour. Bandit Lites partnered with 46 Entertainment to provide the lighting package for the American sports and comedy group that boasts more than 58 million subscribers and 14.6 billion views.
Production Manager/Designer Mason Felps of 46 Entertainment crafted a new design based around the core fixtures from the last tour, working with Creative Producer Lauren Charboneau and Bandit Lighting Director Chris Noll.
"We knew we needed a ton of key light to cover all of the playable area," said Felps. "I started there and worked my way backwards!"
"With Dude Perfect being social media based, it's really important to keep everything to brand: be it tour branding or artist branding," said Noll. "This tends to influence colour selection or overall feel of a given segment."
Noll worked with Gordon Droictcour of Cour Designs (content design/creation), Dan Fletcher of Dark-Matter (pre-production D3 programmer) and Justin King (rehearsal D3 programmer) when it came to the video side of the production, as video was also operated off the MA console. In fact, most everything was operated off the MA.
 "The running joke on this tour became 'if it wasn't a motor or a microphone,' it was fired by lighting and they weren't far off," said Noll.
Moving away from the standard, straight box design, Felps overhauled the design with a 52-foot-wide curved LED wall and more than 100 feet of Tyler Truss curving over the house and main stages. The main visual element of the rig was a 140' long ¾ circle built over the audience, with a 40' straight stick inside.
Bandit Lites supplied more than 170 fixtures including Ayrton MagicPanel 602, Showline Nitro 510C, Robe MegaPointes and VL3500s. The VL 3500s were mainly used for key light and big beam looks while Ayrton MagicPanels supplied eye candy and wash and the Nitros washed the crowd with color.
"We also added GoLive's pixel edge lighting to all stage edges for added punch and changeover safety," said Noll. "A floor package of Robe Megapointes rounded out the rig."
With a show that included off-the-wall trick shots and fun battle royals, the programming had to be both clean as possible while still flexible. The segments would be the same, but what happens during a live show goes differently each show.
"The Dudes also like to constantly tweak the show as the tour goes on, so you have to be ready to flip the script, day of show," added Noll.
To accommodate the evolving production, the show was programmed as a hybrid of a cue stacked theatre show and a punt file with the main cue stack handling all the lighting cues the team knew they'd run each night with six video cue stacks launched off macros from the main stack.
"Anything that wasn't set in stone (eliminated Dudes, victory bumps, called for videos, etc.) and sequences fired off DMX inputs were programmed off the main stack where it could be grabbed at any time," said Noll.
"Chris programmed some really cool bit map effects that show the pixel power of the rig," said Felps. His favorite moment was the introduction of the five dude stars: as the video would roll, Edge Lights illuminated the room in Dude Perfect's signature teal.
"It got an audible reaction out of the crowd every night," said Noll.
In addition to the gear Bandit is proud of its crew for ensuring that excellence was delivered night after night.
"Our Bandit crew killed it," said Bandit Lites Client Representative Mike Stanley. "It is a great feeling when you can trust the team in place and the 'no news is good news' approach isn't a guess. We appreciate Mason and Nathan for giving us the opportunity to be part of this production."
"Once again, another flawless tour from the Bandit team," finished Felps. "Chris Noll, Haley Elliott, Kristen and Katie Field crushed it! Having Chris on the console makes my job easy; he understands what we are looking for from a show perspective. I also want to give a big shout out to Haley aka "Bubbles!" She was key in keeping this rig 100% each day teching all the VLs!"
"Mike Stanley and Don Lockridge were there every time I needed something along the way," Noll said. "I also want to give a big thank you to the Bandit crew: Hayley Elliot, Kristen Armstrong and Katie Boyles, for all their hard work over the 24 show tour."
Photo Credits: Luxium Creative.
Share this story