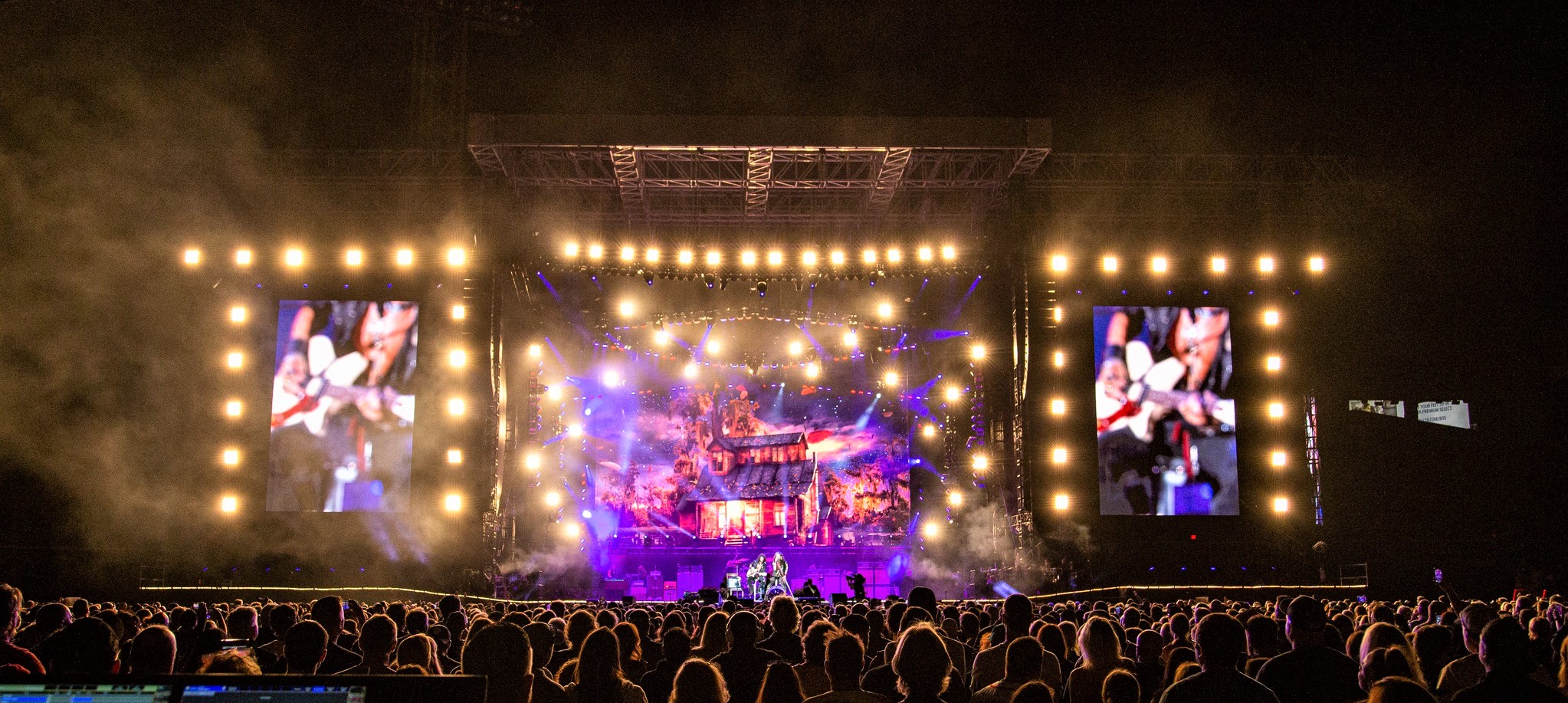 Time was on Cosmo Wilson's mind on Thursday September 8th when he lit Aerosmith's pandemic-postponed 50th Anniversary Concert at iconic Fenway Park. The band's long-time LD not only transcended time by creating powerful looks that harkened back to the early days of his client's storied career, he also had called on his considerable bag of tricks to beat the clock when setting up a massive rig for a one-off at a major league baseball stadium.
"Time was a challenge," said Wilson. "There was limited amount of it to set up at the stadium because of Boston Red Sox baseball schedule. We were a bit concerned that we'd have enough time to get the stage in, as well as the lights, video and sound up, in addition to giving me time to focus and program. Amazingly, we pulled it off!  Big thanks to my crew in the shop as well as my road crew. Eric "Sluggo" Eaton killed it in the shop but was even more valuable onsite making sure everything happened. Adam Ellis was invaluable in coordinating everything between Gateway, G2 and our Production Manager, Stoney Stonecipher."
Of course, once the gates to baseball's oldest stadium opened and the legendary band took the stage, no one in the record-breaking crowd of 38,700 was thinking about how the production was setup. From the moment frontman Steven Tyler belted out the opening lines of the 1976 hit "Back in the Saddle," fans were swept up in a time-warping whirlwind that went far beyond mere nostalgia, to rekindle a connection to the music that helped define their lives.
Reflecting the mood of the moment and supporting the passionate performances on stage, was an intense lightshow that combined retro looks with modern technology. "This was a very special show, being at this stadium in the city where Aerosmith started," said Wilson. "I wanted to make sure the band were surrounded by a lighting rig reminiscent of their early days. Conventional lighting reflects the way this band plays.  For instance, the attack and decay of a par is similar to the attack, sustain and decay of a guitar."
Helping Wilson create these redolent looks was a collection of 39 CHAUVET Professional STRIKE Array 4 fixtures, which, like the rest of the rig, was supplied by Gateway Productions out of St. Louis.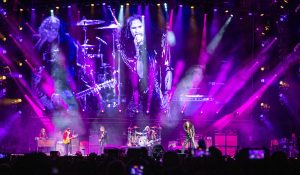 "The overall look of this show grew out of one I designed in 2017 for our European tour," said Wilson. "I used modern elements to recreate old par can rigs. So, the look is like a 1980s rig, but with modern lighting fixtures. Back then I spec'd incandescent blinders, since no LED fixture came close to matching their output. But now, having seen the Strike Array series, I finally have a fixture that I can use instead.
"Also, I always felt that the attack and decay of LED blinders left much to be desired," continued Wilson. "But when I saw how close the Strike Array comes to recreating the original look, I was sold. The dimmer curve is the best I have seen."
Wilson scattered his STRIKE Array 4 fixtures throughout the rig, using them for audience lighting as well as visual exclamation points for big striking hits. "Since this was a stadium show, I added more Strike Arrays on the PA wings, as well as having them back light Steven Tyler at the piano on the Green Monster."
To add even greater impact to the reveal of Tyler playing piano on the Green Monster (the large emerald colored left field wall at Fenway Park), Wilson had CO2 and pyro effects go along with the bright light from the Array units. It was one of many examples of how he enhanced the traditional light show with flourishes. He also set moods with four Amhaze foggers, which he said "worked incredibly well for a stadium show." Another was how he worked with video director Jonathan Beswick to balance lighting with the rig's big video walls.
Contributing to the vibrant, spontaneous feel of the show was Wilson's busking. "I definitely wanted to run this show, he said. "Busking is my true passion. Basically, all my cues start as busks, then I put each song into a cue structure to make it even more killer. To me the design is one thing, but the execution is the most important thing!"
Wilson kept busy busking for an extensive set list, which featured ten songs from the 1970s, five from the '80s, three from the '90s, and one blues cover featured on 2004's "Honkin' on Bobo." In the end, neither he nor his legendary clients showed any signs of letting up; given the energy level, they could have easily been ready for more.
Photo credit: Nick Whitehouse.
Share this story