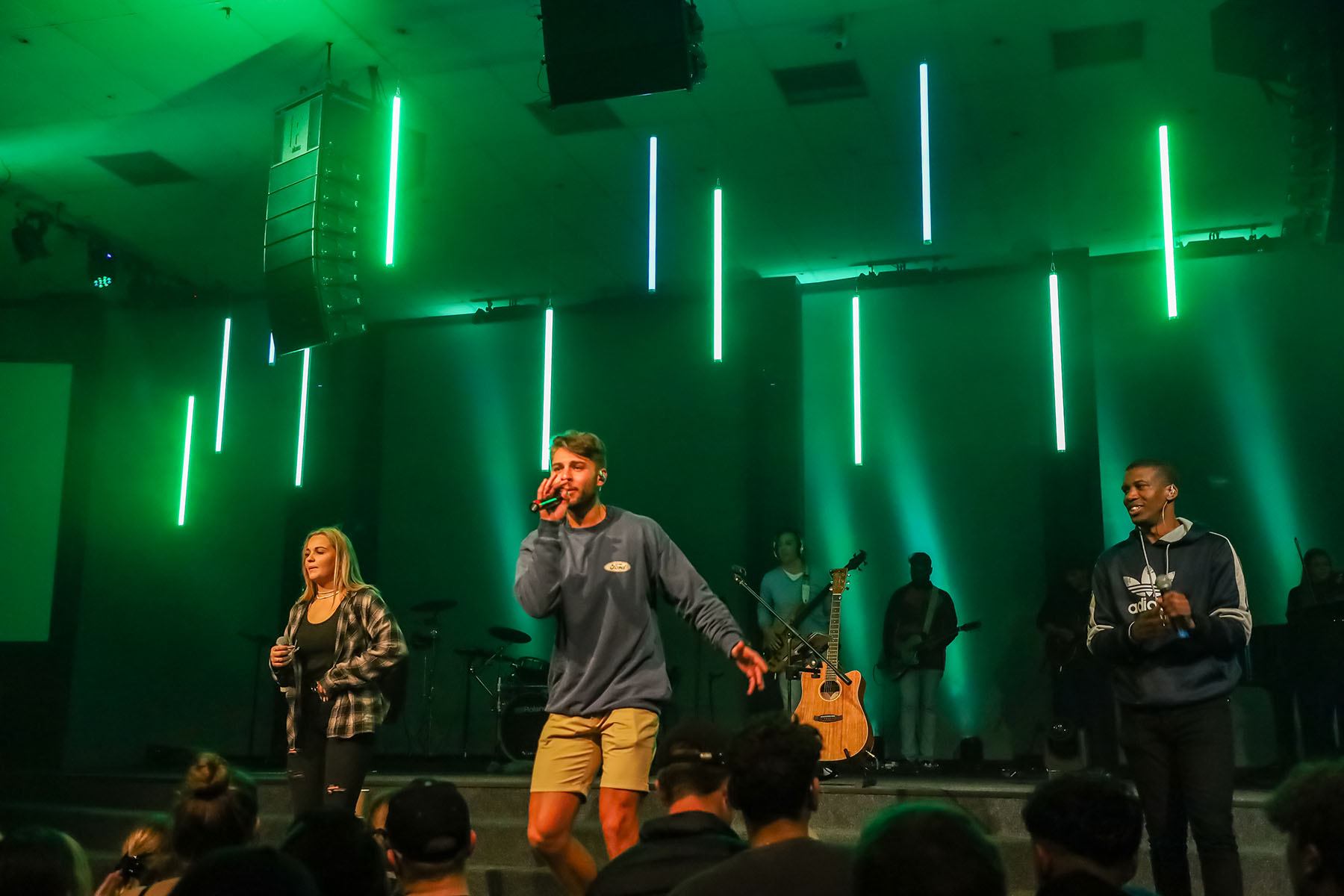 Photo courtesy of Maranatha Youth.
Maranatha Community Church Johannesburg, South Africa, has invested in two sets of Astera Titan Tubes for its busy 3000-seater auditorium in Kempton Park. They were purchased as part of an ongoing commitment to delivering excellent technical production for their services and events.
Nereen Bradshaw is head of media at Maranatha, and is responsible for creating content and overseeing lighting, media and video weekly at the Kempton Park campus, with which she has been involved for 10 years. The auditorium is used for three Sunday services each week (reaching approximately 5,000 – 6,000 people across all 3 services), and a live event is staged every Friday for around 400 young people. Four times per year there is a large mid-week family praise & worship service to coincide with the end of the school terms. Services include a set of 4-5 praise & worship songs, followed by a motivating message.
All these presentations and services include live musical performances.
Nereen and the team at Maranatha – headed by Senior Pastor Leonard Stone – are always looking out for new technology and elements to enhance their productions, but it was an album launch by resident church band, Direction, which prompted the Titan Tube purchase.
"We wanted something really extra special for this event," explained Nereen.
The Church had bought other kit including Robe moving lights from Astera's South African distributor DWR Distribution in recent years, so when DWR's Robert Izzett came onsite and demonstrated the Titan Tubes, both Nereen and Leonard were suitably impressed and went on to order two sets, 16 Tubes in total.
The battery powered operation and ability to regulate and optimise consumption and run time was a big selling point for them, explained Nereen, adding that they also still have the option of running them wired if required.
The Titans are hung above the stage area attached via carabiners to different length catenary wires and add real depth and dimension to the performance area. This setup means the Tubes can be easily moved around if needed. Currently they are programmed to run in pairs in a 4-pixel configuration, from the house lighting console.
Nereen is impressed with the brightness of the Titans and most of the time they are run at only around 40% intensity! They provide complimentary kinetic effects above the vocals, which look great on camera.
In the future, Maranatha intend to use the Tubes in other creative ways, including as hand-held illuminated props for dance items at special services such as Easter and Christmas celebrations. Within the next month they have in mind to use the Tubes in a hall with a wet concrete floor, for light effects while recording another music video for the band.
In addition to the brightness, Nereen appreciates the fabulous Astera colour mixing – thanks to the award winning Titan LED engine – the fact that any shade or hue can be selected and instantly replicated – plus the possibilities of creative programming with pixel / zone, intensities, or colour sequences.
"They bring a completely new dimension to the stage and give it a real modern edge which is great for engaging younger members of the congregation and for presenting more energised and invigorated musical segments! Conversely using very slow colour or intensity effects has brought a gentle 'raining' kinetic experience – so they can be used for upbeat praise as well as quieter worship," elucidated Nereen.
She also mentions the importance of the relationship with the distributor when investing in a brand, describing DWR as "brilliant – very friendly, helpful and super-knowledgeable."
Nereen works with one other full-time staff member, Kaylin Dickson, plus a large crew of regular volunteers covering all the different technical departments. Nereen & Kaylin run regular training sessions to ensure that 'The Crew' stay informed, sharp and updated with the kit.
Share this story