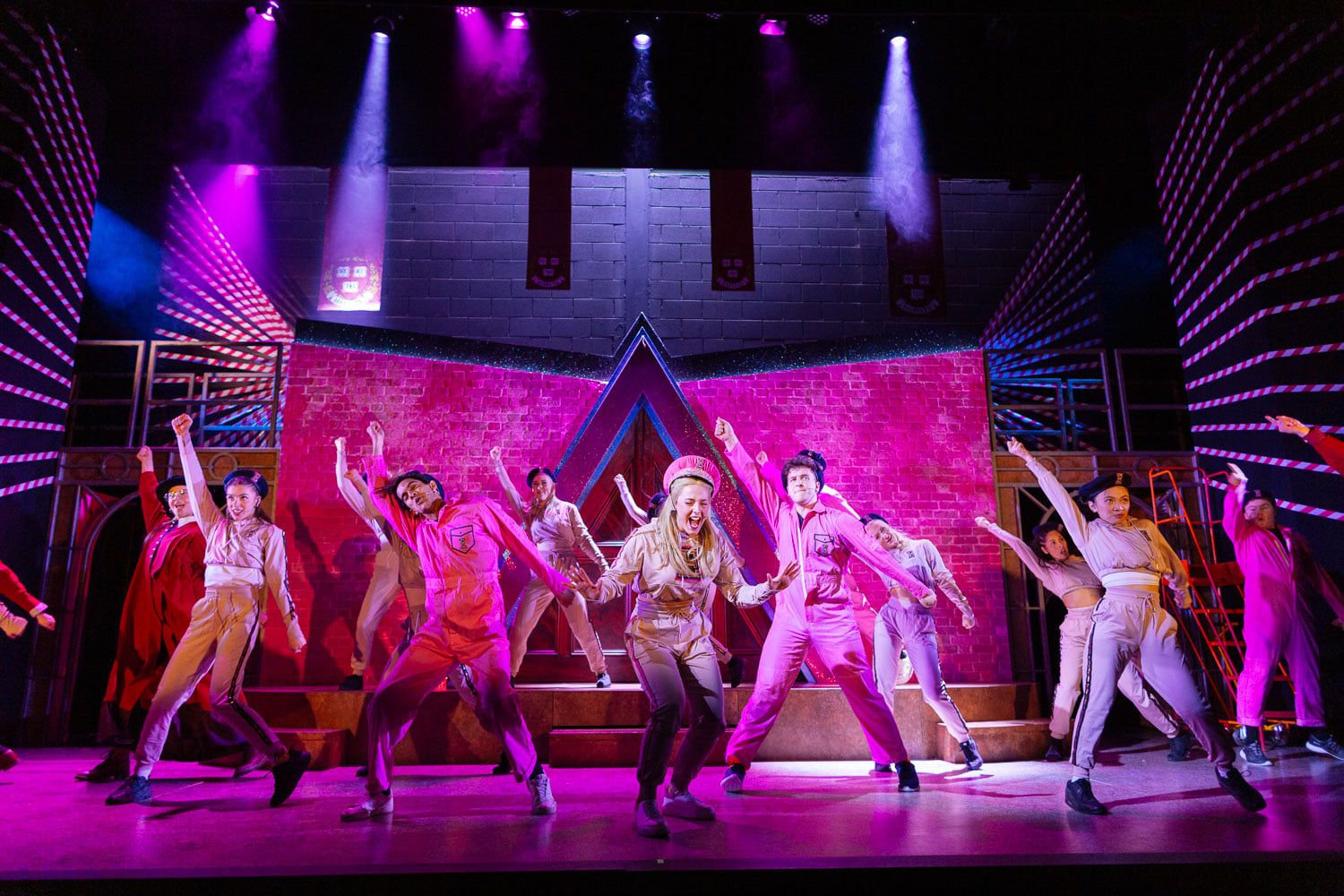 Never permit a false dichotomy to rule your life, Pablo Picasso once declared. Sage advice, as the heroine Elle Woods proves with such panache in "Legally Blonde," the Laurence O'Keefe-Neil Brown musical, inspired (like the film before it) by the Amanda Brown novel about a vapid California sorority girl who metamorphizes into a Harvard Law student. Defying stereotypes and reconciling supposed oxymorons, Elle proves that a woman can be both pretty and smart, as well as colorfully free spirited and intensely focused while making this incredible transformation.
Adam King captured the powerful, punchy and uplifting spirit of this inspiring coming-of-age story when lighting a recent Franny Rafferty directed production of the Olivier Award winning musical at Mountview's The Mack Theatre. Like Elle herself, King's design deftly navigates divergent forces with a breezy grace — and the results are every bit as captivating and uplifting.
"Given the nature of the story, vibrant pink was the major color theme for Elle Woods, so it was important that we be able to transition to it when necessary," he said. "However, we also had to lean away from this palette when the scenes were not so linked to the character in order to make it more effective."
At its core, Legally Blonde is also a story of transitions. In this Mountview production, Elle's transformative journey is supported by well-timed and placed lighting changes that King executes with a rig anchored by CHAUVET Professional Ovation fixtures.
"There were lots of different locations that we needed to create so it was vital that we had color changing ability in the rig to allow us to seamlessly step from one location to another," he explained.  "We needed the ability to light the space as a whole. but at the same time be able to close right down and isolate different areas of the space. Accomplishing this was a lot simpler, given the color rendering capabilities of these fixtures, as well as the skill of our in-house production electrician Hakan Hafizoglu and the Mountview students."
Endowing the stage with texture and depth was critical to King's plan to convey a sense of different spaces throughout the play. The set had a pink brick wall; behind this was the theatre's actual dark brick wall. King drew on this configuration to add another dimension to the stage.
"I always like to try and get as much depth as possible, so I decided not only to light the pink wall, but the theatre back wall as well," he said.  "The pink wall was always going to stand out because of its color, but the theatre's back wall was dark, so light would make it less muted without distracting.  It added some nice texture. The wall took light surprisingly well."
The set's side walls had pink and white hazard tape along them. Knowing how well the white in that tape would take color, King opened his backlight cover to skim slightly down their surface. In so doing he made this area appear as if it were part of the space and the color palette that were used in the scenes.
"I'm all about creating depth, so I often start with how I'm going to light the set first and then look at how I'm going to cut through further downstage to light the people," said King. "The back pink wall had two Ovation F-915FC Fresnel fixtures lighting it to pull out the texture and allow us to add bold colors. Other F-915FC units were used as top/back light to give color to the floor."
King relied on cross light that was cut off the floor to make the actors stand out from the background. "The Ovation E-910FC ellipsoidals were placed around head high as cross light to punch out the actors from the set behind them," he said.  "There was one full set of Ovation B-1965FC Battens fixtures downlighting the upstage wall behind the set.  There was also several B-2805FC Batten units behind the pink wall doors adding some color and cross light to this part of the stage."
Splashing color throughout the stage, whilst running his lights with precision, King managed to create looks that were vividly stylish and spirted without distracting from the unfolding of the play's narrative. Like Elle Woods, he turned false dichotomies on their head, and had a heck of a lot of fun doing it.
Share this story