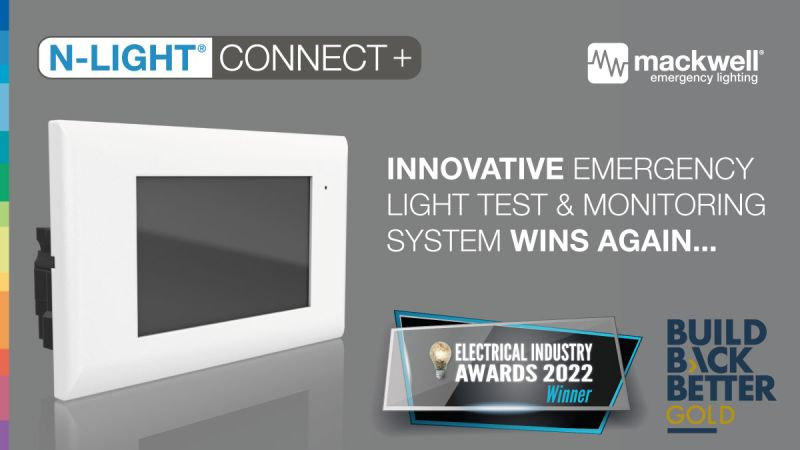 Emergency lighting, systems and solutions expert Mackwell are celebrating as they take home a prestigious Electrical Industry Award for their innovative lighting control product, the N-Light CONNECT+.
Now in its 30th year, The Electrical Industry Awards celebrates the best of the electrical industry and its professionals, and has rewarded Mackwell on its technical innovation. Mackwell are proud winners of the Lighting Controls Product of the Year Award, for their N-Light CONNECT+ emergency lighting test and monitoring system.
Their winning entry demonstrated the scalability of N-Light, a suite of integrated monitoring solutions for emergency lighting installations that provides wired and wireless monitoring as well as cloud connectivity all in one ecosystem. Using DALI controls and intuitive interfaces, a single touch panel can control up to 1024 devices.
Cloud monitoring provides online reports and real-time system updates, improving the speed and accuracy of fault detection. It provides an advantage that was not available before: being able to view the status of emergency installations across an entire estate at any time, from anywhere – all on one single interface.
This innovative product has provided a solution to the challenges faced by facilities management teams in buildings and across estates without an automated system in place, removing the need for time-consuming manual testing, and making emergency lighting testing safer and more efficient. This system provides a solution across small to large scale emergency lighting projects, ideal for multi-site support, larger buildings, complete estates and retrofitting to existing buildings.
Rene Joppi, Managing Director of Mackwell, said: "We are thrilled to have won an Electrical Industry Award, and for our N-Light CONNECT+ to have been recognised as Lighting Product of the Year for controls. We strive to provide innovative solutions to industry challenges and to make emergency lighting testing safer and more efficient for the industry as a whole. We could not be more proud that the N-Light CONNECT+ is improving emergency testing in new and existing buildings through pioneering new technologies."
This win is a second for Mackwell in recent weeks, following the achievement of gold at the Build Back Better Awards, also for the N-Light CONNECT+ system. This award-winning product is shaping the future of emergency lighting testing.
Share this story