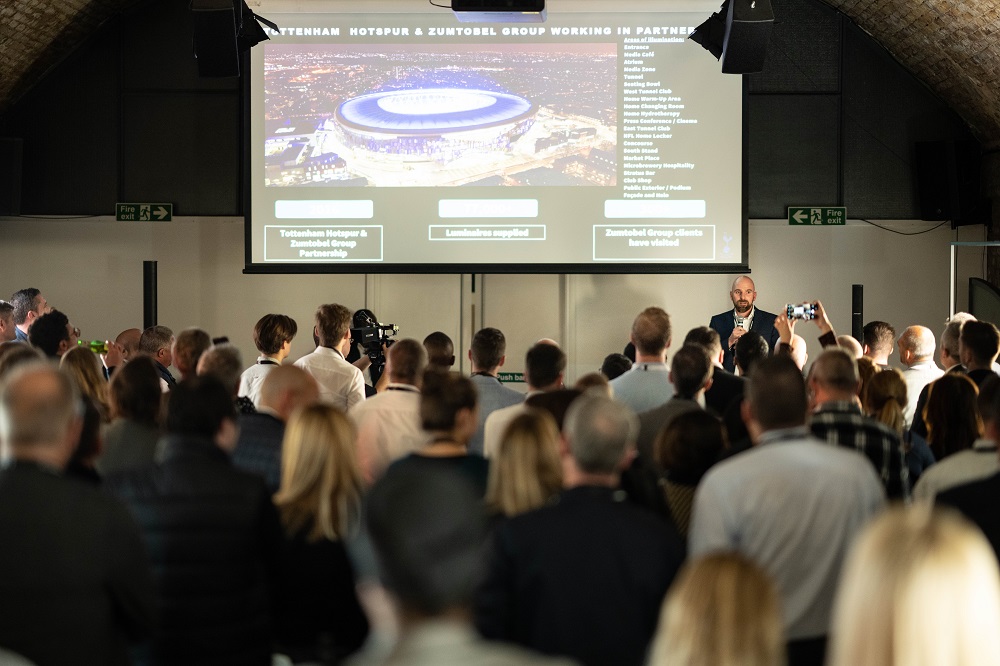 A new Managing Director for the UK and Ireland, potato-based packaging, the Premier League's greenest football club and IDA Dark Sky-approved luminaires – a complete summary of the London leg of the Zumtobel Group's Light(s) on Tour event. 
Last week, over 100 architects, lighting designers, contractors, local authorities, and lighting industry personnel were hosted by the Zumtobel Group at The Bike Shed in Shoreditch for the UK & Irelandedition of the European Light(s) on Tour event.
The Group's Regional Sales Director for London Specification, Tom Lobak, started the evening with a surprise welcome to the newly appointed Managing Director for ZG Lighting UK & Ireland – Paul Kilburn.
Coming from FTSE250 company Volution Group Plc, Paul takes up his post on 1st November 2022 and will report to Marc-André Rusch, Vice President Region West & South Europe.
The Premier League's greenest football club
Guests were then treated to a talk from The Group's client, Tottenham Hotspur Football Club.
With sustainability and energy efficiency at the heart of both Company's visions, it's easy to see why Zumtobel Group were selected as the stadiums official lighting partner. With the Group having supplied over 77,000 luminaires.
For a third year running, the Club has finished top of the Premier League sustainability table produced by the UN-backed Sport Positive and published by BBC Sport. Tony Stevens, Head of PR, detailed what the Club has delivered so far to minimise its environmental impacts across all operations and its current journey to net zero.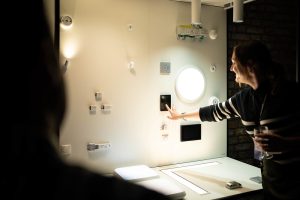 Potatoes and Dark Sky
How does one go from football to potatoes, you might ask? A key theme of the night was sustainability and taking action to protect our planet. Guests were guided through over 40 product ranges across eleven application areas in the form of application booths. The indoor booths showcased Zumtobel's latest developments including the CIELUMA acoustic luminaire for office, education and healthcare, CRAFT II for industrial applications and the Groups digital services offer.
Key standouts included the VIVO II family in the retail application and not just for its broad product scope. The Group has been working to implement packaging across the range to minimise its negative environmental impact. What looks like an ordinary reinforced cardboard carton is, in fact, constructed from potatoes. Deutch reinpaper is a biological packaging brand that consists entirely of natural raw materials. 100% recyclable and compostable. This reduces food waste and means packaging biodegrades quickly and efficiently.
The Thorn lighting Street and Urban lighting areas continued the theme, boasting eleven IDA (International Dark-Sky Association) accredited Dark Sky-approved product families, including Isaro Pro, Isaro, Carat, R2L2, Aerie, Flow and Plurio, covering a broad range of lighting tasks.
Neil Raithatha, Head of Marketing, Zumtobel Group UK & Ireland, comments, "This was our first large-scale event since the pandemic, so it was fantastic to see so many new and familiar people – including our new MD. Over the last two years, we have had many new developments across both brands, so this was the perfect opportunity to showcase our new offering and the good work we have been doing behind the scenes. We had a great customer turnout, and it was excellent to get our sales and product managers together again. Thank you to everyone who attended."
As part of the Zumtobel Group's wider commitment to sustainability which recently saw them awarded Gold EcoVadis status, in conjunction with the National Trust, the Group planted a tree for every guest that attended the event.
Share this story