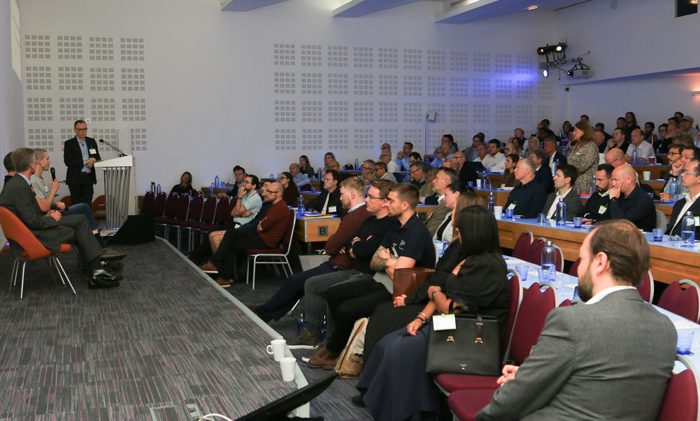 The Circular lighting live conference and exhibition sold out over a week before the event was due to take place.  With 250 registered attendees from specifiers, manufacturers and suppliers, the one day conference, which took place on 22 September, discussed how the lighting industry can make the circular economy a reality.
Chaired by Ray Molony, Editor of Circular Lighting Report, the packed conference room heard key presentations on forthcoming EU and UK legislation, and the plethora of different environmental metrics that exist, including assessments of circularity (TM66), embodied carbon (TM65), environmental product declarations, and life cycle assessments.  Practical discussions included how to encourage more remanufacture and reuse in the lighting sector.
The pivotal role of the specifier in encouraging more sustainable lighting was tackled by two panels, both composed of five experts, drawn from across the industry.
The conference was complemented by a vibrant supplier exhibition including a 3D printing demonstration from Platinum sponsor Signify, and other stands from Gold sponsors ASD Lighting, DW Windsor, Lucent, Orluna, Primelight, Silent Design, and Trilux.
Commenting on the event, Recolight CEO Nigel Harvey said: "We have been thrilled by the level of energy and commitment expressed during Circular Lighting Live.  It really does seem that we all get it: The really significant changes we need to make to address the climate crisis, and to improve material efficiency."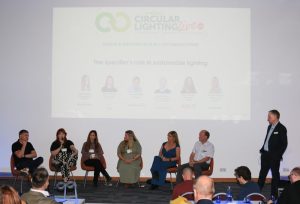 "We've received overwhelmingly positive feedback.  So we've already announced that Circular Lighting Live 2023 will take place on 21 September 2023.  We will be at a bigger venue, so we will be able to welcome many more delegates and sponsors."
Gareth Davies, Principal Lighting Consultant at Stantec said: "Great to see this coming to the forefront of the industry. I think this has opened a lot of eyes to the magnitude of the task ahead, and also shown that it is not an impossible goal. A lot of people have realised we are not where we'd like to be and we need to start/accelerate our movement in the right direction. The conference offers a great chance for people to journey together and support one another in this critical area."
One of the main takeaways of the event was the value of TM66, the CIBSE and SLL specification for circularity in the lighting industry. TM66 is increasingly being seen as a helpful tool to allow specifiers to identify lighting products that are properly designed with circular economy principles.
Nigel Harvey added "Recolight was proud to host Circular Lighting Live. It aligns perfectly with our ambition to desire to support and encourage our industry to become more sustainable. And we did our best to practice what we preach: the programme, delegate list, and feedback form were emailed rather than printed.  The venue chosen favoured public transport, rather than travel by car. And even the food was vegetarian, to reduce the carbon footprint."
Share this story