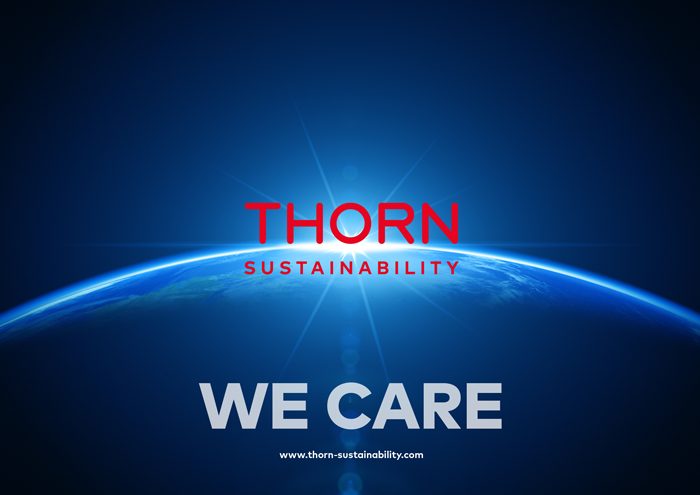 Globally trusted supplier of outdoor and indoor luminaires and integrated controls, Thorn Lighting, commits to climate neutrality by 2025. And you can track its progress on its newly launched Sustainability Hub.
Here you will find updates on its technology, solutions, and the steps it takes to reduce its CO₂ and help to achieve your sustainability goals.
We all need to adopt a culture of sustainable decision-making to ensure future generations flourish. To do so, we must find a better balance between the environment, economy, and human empowerment.
Sustainable actions from a key part of the Zumtobel Group's corporate strategy. In line with the wider group, Thorn is committed to conducting business in a way which will ensure the planet is safeguarded for future generations.
The manufacturer intends to go above and beyond to protect the future of our environment. Therefore, it is committing to achieving climate neutrality by 2025.
Saurabh Pandhi, Vice President, Thorn Brand said, "Sustainability and climate change will be two of the most significant challenges of the 21st century. As a manufacturer, Thorn Lighting must take action to be part of the solution.
The Zumtobel Group, of which Thorn is a proud member, has signed up to 12 of the United Nations' 17 Sustainable Development Goals. To publicly demonstrate Thorn's commitment to operate our business responsibly, we are looking to offer and develop more sustainable products and solutions as well as finding ways to improve our processes in a bid to reduce waste, bring down energy consumption and lower our carbon emissions.
This will be achieved by investing in research and development to bring you, our customers and partners, innovative technologies through products and solutions, so that you, too, can reach your own goals when it comes to tackling this shared, universal issue."
Neil Raithatha, Head of Marketing, Zumtobel Group UK & Ireland, comments, "We are on a journey. Whether providing high-quality EPDs, introducing technologies that enable sustainable lighting to protect the dark skies or working with clients to help them increase energy efficiency, our goal is simple. To reduce our CO2 emissions and to be a partner of choice in helping others achieve theirs."
Join them on their journey and visit the Sustainability Hub: www.thorn-sustainability.com or watch this short, informative video: https://youtu.be/KuIa9ItCJIg
Image credit: Thorn.
Share this story