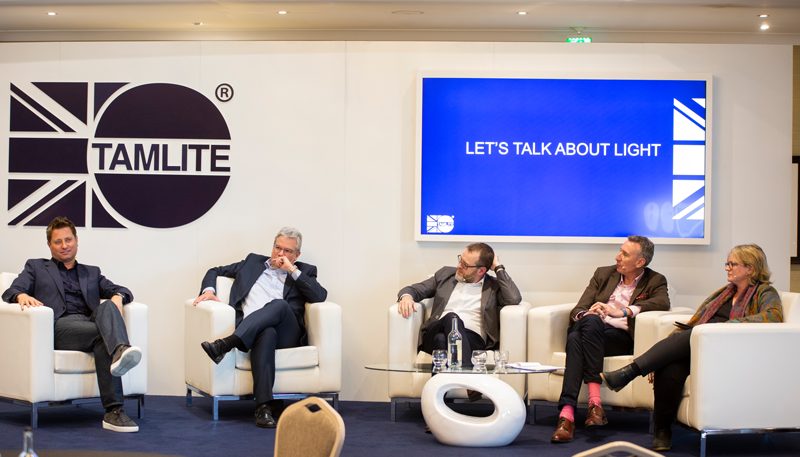 The circular economy, sustainable specification and greening the built environment supply chain were amongst the recurring themes of a full day of thought-leadership at Tamlite Lighting's latest Let's Talk About Light event. The one-day event at The Belfry Hotel began with an inspirational keynote speech from architect, TV presenter and built environment campaigner George Clarke.
Bringing together some of the UK lighting sector's most influential figures as presenters and panellists, Let's Talk About Light played host to nearly 40 of the UK's leading lighting designers and consulting engineers. The event is the second of its kind – the first of which took place at London's iconic building, The Shard in October 2022.
Alongside George Clarke, the speakers were Bob Bohannon, Head of Policy and Academy at The Lighting Industry Association (The LIA), Lead author of the Society of Light and Lighting's Lighting Guide Update, Iain MacCrae and Strategic Solution Sales Manager at Tridonic UK, Simon Blazey.
'More holistic specification'
Attendees, including representatives from CPW (sustainable buildings services), Cardiff University, and Stewart Associates (building services consultancy) were treated to a programme of powerful content. Each of the speakers was charged with informing and educating the audience on a wide range of environmental, sustainability and lighting compliance issues including the TM66 Circular Economy Assessment Method, the forthcoming update to the SLL's Lighting for Education Guidance – as well the role of light in delivering the UK's net zero building ambitions.
Connecting all the talks, including George Clarke's keynote, was an impassioned plea for more holistic approaches to building design and management – as well as a less siloed approach to thinking about building services – and lighting in particular.
"Not just London"
Darren Taylor, National Specification and Projects Manager at Tamlite, said his team were absolutely delighted that Let's Talk About Light is creating such a buzz in the industry.
"This event offers a really fantastic format to anyone with an appetite for learning and inspirational content.  My team was delighted to see so many of our regional specifier and end-user colleagues at The Belfry – it proves that there is plenty of demand for high-quality events outside of London, and I am so pleased that we are able to fill this gap. Let's Talk About Light is unlike anything else in our sector – it's clear that word is spreading about its role in bringing new conversations and new voices to the fore."
'Thought provoking'
As with Tamlite's London event, feedback from attendees has been extremely positive and validates the company's decision to invest in content-led networking forums that offer an opportunity to learn from the industry's leading figures. The Lighting team from CPW (Crouch Perry Wilkes Building Designers) took to social media to praise Let's Talk About Light as: "Super thought-provoking… All the speakers provided excellent insight."
The attendees from CPW, Kate Morley and Victoria Sadler, remarked on the day "As part of the Lighting Design Team at CPW, we are always looking to expand our lighting knowledge, Let's Talk About Light has achieved this!  It wasn't a sales pitch like some events can be, we learned a lot about developments and the future of lighting".
Delegate Alan Tyler, an Electrical Quality and Handover Manager (Projects) at Manchester Metropolitan University also found the format to offer a "very practical and thought-provoking" programme of content.
Midlands based Ady Laing (Area Engineer at Coventry City Council) saw the event as an opportunity to learn more about lighting in his field – "As I work within Lighting for education, it was great to hear plenty on this topic, and I certainly found it really useful, and I've had a great time."
Tamlite welcomes interest from anyone who are keen to register for future Let's Talk About Light Events.
Share this story