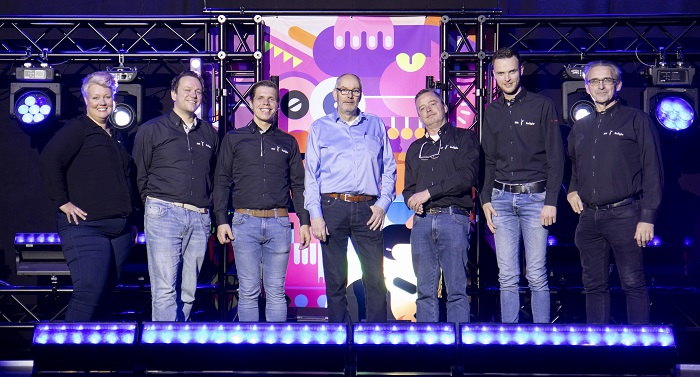 Left to right: Annemarie Kanon (Sales Consultant, Rolight), Rick Blind (Sales Consultant, Rolight), Jessy Nelder (Sales Consultant, Rolight), Bert Schmeits (Key Account Manager Benelux, Elation), Erwin Sasburg (Purchaser, Rolight), Robin Eijlders (Project and Sales Manager, Rolight), Rolof Tilanus (Project Consultant, Rolight)
Elation Professional is pleased to announce that AV equipment supplier Rolight has been named the new exclusive distributor of Elation lighting products in the Netherlands. The agreement, which went into effect on January 1, 2023, also encompasses Elation's atmospheric effects brand Magmatic.
Based in Enschede, the Netherlands, Rolight specializes in supplying the Dutch market with high-quality lighting, video and audio equipment. A carefully selected range of premium brands and a continuous commitment to provide tailored advice and excellent assistance to each customer have enabled Rolight to distinguish itself on the market, making entertainment innovations available for everyone for over 40 years.
Rolight provides professional equipment to a wide range of different market segments, including theatres, rental, touring and AV installation companies. "The new partnership with Elation will help us strengthen both our lighting and effect product ranges, offering our clients a greater variety of options and strengthening our position as one of the leading providers of professional lighting equipment on the market," stated Robin Eijlders, Project and Sales Manager at Rolight. "Through this partnership, we'll be able to further our goal of supplying our customers with products that stand out in terms of quality and innovation, ensuring they can take their projects and events to the next level. Furthermore, we believe that just like Rolight, Elation shares the same philosophy of providing customers with the best value and service."
Besides providing customers with a wider selection of products, the new partnership will also allow Rolight to provide clients even greater attention while offering them an even greater customer experience. "It will enable our experienced consultants to focus even further on each customer's needs, working with them in order to find the best solution and thereby contributing to their projects even better," Eijlders concludes.
Share this story