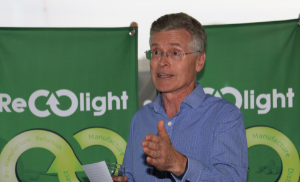 Recolight now brings together a comprehensive range of services helping the lighting industry to fully embrace the circular economy.
Speaking at a key stakeholder event yesterday, Recolight CEO Nigel Harvey said "The unprecedented heatwave we recently experienced is a salutary reminder of the need for us all to redouble our efforts to tackle the climate emergency.  And that has been one of the key drivers for the way Recolight has transformed its business over the last three years.  The circular economy is a vital component of the response to the climate crisis."
"We are now doing more than ever to support a circular economy. That includes product design training workshops to help lighting producers design for circularity, and to navigate the emerging voluntary and mandatory specifications. The Circular Lighting Report news service keeps the industry abreast of the latest developments. A certification service will help manufacturers demonstrate the their level of compliance with the CIBSE TM66 circular lighting standard. And vitally, the new in-person event, Circular Lighting Live which takes place in London on 22 September will provide a unique forum to consider forthcoming standards and legislation, emerging technologies and new business models."
Harvey continued: "This transformation at Recolight has only been possible because we have built new partnerships. We are delighted to now be working with leading lights from across the industry: Ray Molony, Simon Fisher and Helen Loomes."
"These new events and services complement the changes Recolight has already implemented to try to reduce the level of luminaire recycling, and increase reuse of old lighting equipment, and of excess lighting equipment stock."
"At Recolight, we are also doing our best to 'walk the talk' on the climate.  All our events are hosted at locations that favour travel by public transport.  Climate action is one of the criteria in our tenders. And we've set an annual internal target for all staff, to reduce the carbon footprint of our lamp collection services by 10% this year."
"It is particularly important to mention the pivotal role of the Recolight team in this transformation.  I am immensely proud of their passion, energy, and commitment.  None of this would have happened without them."
Recolight's core business is the operation of the lighting industry's leading WEEE compliance scheme.  The scheme provides waste collection and treatment services to the customers of its members, to ensure that all scheme members comply with their recycling obligations.  Recolight's waste lamp collections play a major part in helping the UK to ensure that lamp recycling levels are maximised.
Share this story