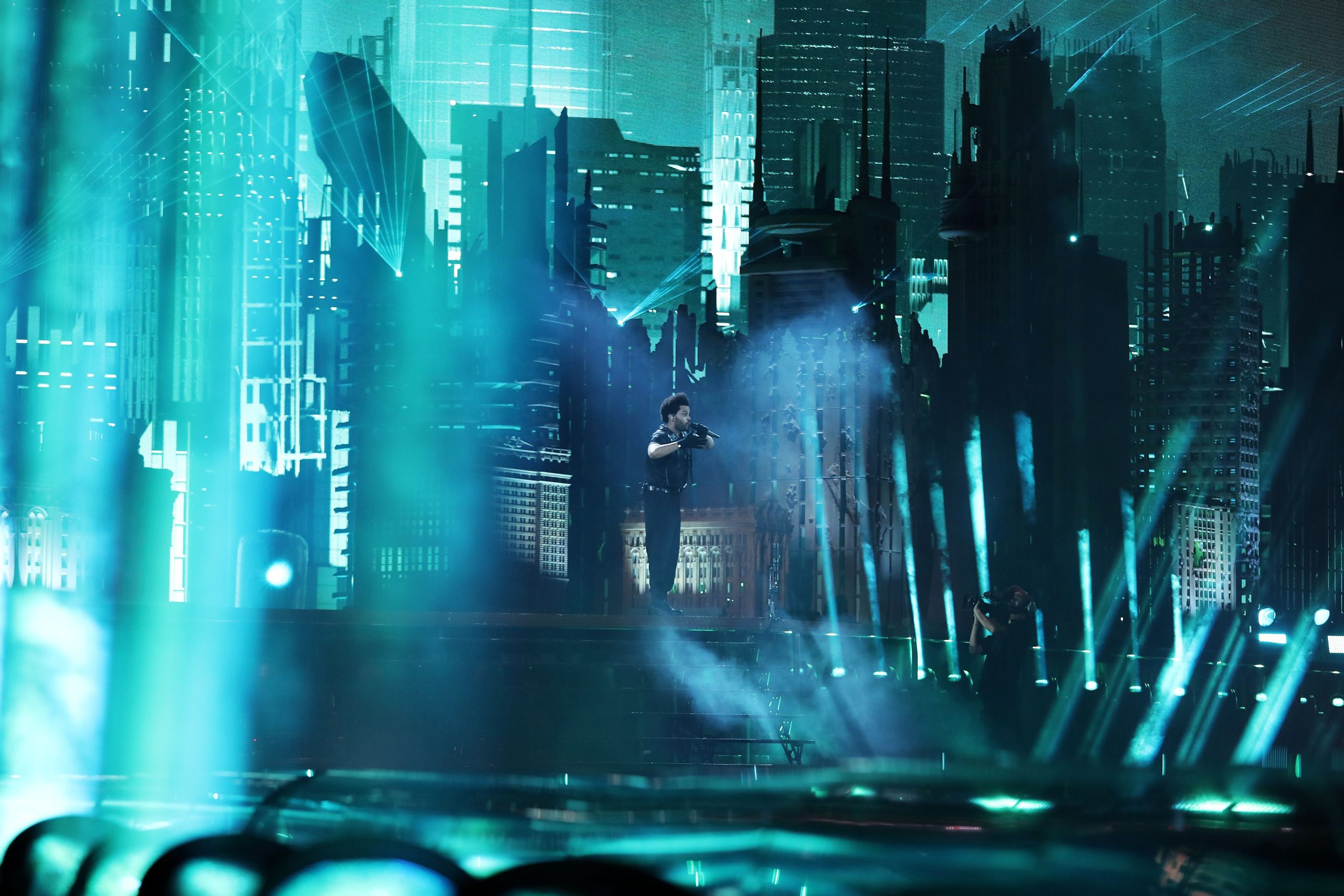 There is a peril to anticipating something too eagerly. The disappointment that can accompany such a long-awaited event, should it fail to meet expectations, can be "the root of heartache," as Shakespeare wrote. The great bard's warnings notwithstanding, however, it's doubtful that any of the fans who excitedly packed North American arenas on The Weeknd's 19-date "After Hours Til Dawn Tour," had even the slightest regret.
After a two-year, pandemic-related wait, the tour surpassed even the loftiest expectations. This was plain to see (and hear!) from the moment the stage erupted in light, and The Weeknd appeared dressed in black and wearing a mask to begin his show with a hauntingly evocative rendition of "Alone Again."
Supporting The Weeknd during his transformative two-hour set was an immersive light and video show that featured over 1,100 fixtures and a 180-foot video wall supplied by Solotech.
Solotech account executive Robert Kennedy and his team accomplished this feat by drawing on global resources. The resultant lighting and video rig was a key part of a remarkable production design, which, like the music being performed on stage, defied expectations with its boldness and vision.
Going beyond scenery, the design created an actual "city" on stage with 17 custom carved, hard coated, painted buildings in various levels of ruination. Together, these buildings, created by TAIT, formed a looming post-apocalyptic skyline.
Jason Baeri, the show's lighting designer, gave the buildings a very redolent vibe by uplighting them in dark, brooding colors, often suggestive of smoldering ruins. Helping him accomplish this, was a collection of 84 CHAUVET Professional COLORado PXL Bar 16 fixtures provided by Solotech.
"We had half of the COLORados uplighting the buildings to showcase the magnificent detail that Es Devlin (Production Designer) and Jason Ardizzone-West (Scenic Designer) created on these structures," said Baeri. "The other half were used as accents on the C Stage to help carry its depth and shape."
Casting the right level of light on the buildings was essential to conjuring up the appropriate atmosphere, noted Baeri. "The moods created through visuals were as dynamic as the show itself," he said. "The arc of the show was meant to follow a timeless night through a dystopian city in a search for an endless wave of good times, and some sort of way to make sense of it all in the darkness."
The scope of this project made Baeri proud to be a part of it. So too did the work of his colleagues. "I could not have worked with a better group of people on this," he said. "My amazing team with me at FOH, Loren Barton and Joe Bay were spectacular and forever improving on the ideas we started with. I was honored to light Es Devlin and Jason Ardezio-West's broken cityscape, as well as the brilliant content from Sveta and Polina. I'm also grateful to our very talented team from Solotech, Rob DeCeglio, our PM and every bit as much a member of the design team.  LaMar Taylor, the Creative Director, who has the big picture in mind always and isn't afraid to break the rules to put on a show like this.  And, of course, I'm thankful to Abel himself for having the courage and the drive to dream so big and have us all along with him."
Led by a superstar, and working together, this team created an experience that not only exceeded fans' wildest expectations, but will also reshape how they measure concerts for a long time to come.
 Photo credit: Todd Kaplan.
Share this story