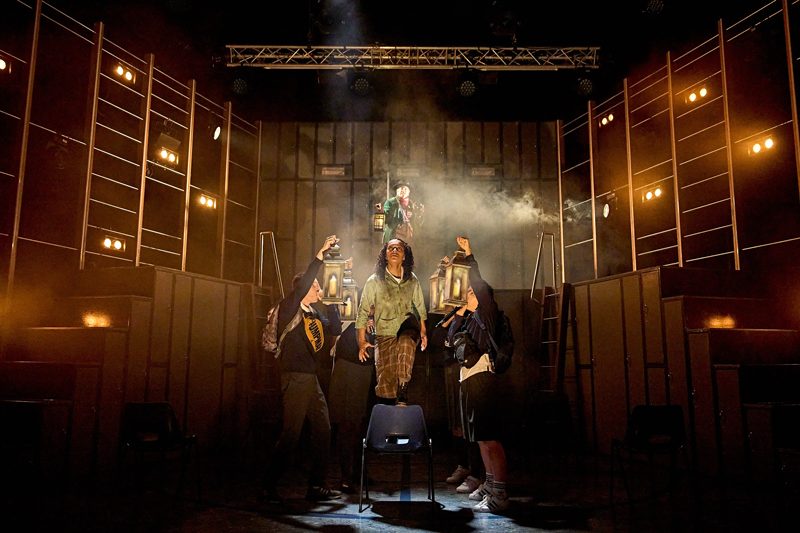 Unexpected Twist is the re-telling of the Charles Dickens classic, Oliver Twist, by one of the best-loved figures in the children's book world, Michael Rosen. The book combines two stories in one; Rosen's story and the Dickens classic that inspired it. In a co-production between The Children's Theatre Partnership and the Royal & Derngate, Northampton, it has recently been adapted for the stage by award-winning playwright Roy Williams and is currently touring the UK. The lighting designer for the show is Rory Beaton who approached White Light (WL) to supply his lighting fixtures.
Unexpected Twist tells the story of Shona, who, along with her class, is studying the book, Oliver Twist. She's the new girl in school and finding it hard to stay out of trouble – much like Oliver himself! When she's given a new phone by a stranger, she begins to suspect there's something unusual about the new boys she's met… Describing his role on the show, Rory comments: "My biggest responsibility during Unexpected Twist is being able to create so many of the different locations which feature in the play. We go everywhere from a city underpass to a rock concert to a classroom to a bright sunny vista by the sea in Brighton – so that's quite a variety for an open set!
He continues: "We also needed to establish a clear differentiation between the modern-day classroom and our Dickensian world; sometimes in a mere split second. Similarly, James Dacre, the Director, is a very visual director so it was great fun to sit pre-rehearsals and plan with both him and Frankie Bradshaw, the Olivier-nominated Set and Costume Designer, about how we create a clear visual language for all the moments throughout the show. These are totally crucial in how we tell our audiences (of varying ages) where we are and what's going on".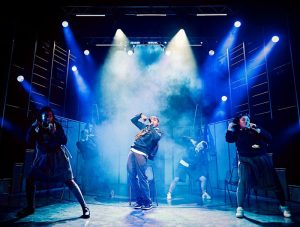 Knowing what he needed to achieve both artistically and practically for the show, Rory then approached WL's Customer Service team to supply his rig. He explains: "The whole rig is actually visible to the audience throughout and this therefore had to be integrated into part of the set design. Frankie created a fantastic grey-scape of a classroom with school wall-bars which I was able to hang several fixtures on. She also helpfully hung three trusses in view of the audience, to help with our modern rock concert scenes. That said, these units also had to be able to light the more emotional and dramatic moments of the play. There's also the fact that the show was touring to a lot of different venues so we needed a flexible set-up that could easily be rigged in a single day.
He continues: "With this in mind, I chose MAC Auras for their small profile and flexibility as the wash units and then called upon VL2600s to do the shuttering profile work. They sit nicely in the rig visually as well as provide the punch we need for beamy moments and mean we never need to change a lamp whilst on the 16-week tour. There are also various systems of ColorSource Spots and some MR16 battens thrown into the mix; alongside a significant amount of Pixel Tape built into the set. I used a system of LED Fluorescent tubes overhead to create that sterile classroom feel as well as some two-cell tungsten molefays (or fireflies as they affectionately became known to us) to create our low-glow tungsten Dickensian world. I think when you watch the show, there's a really clear and exciting difference to those moments, which we spent a long time trying to crack".
Unexpected Twist began its tour in Northampton earlier this year and will continue to visit venues until June 2023.
Rory concludes: "I am really pleased with how the show turned out and I'm extremely grateful to the entire team: Production Electricians Nat Keiller and Olly Welsh, our Programmer Tom Mulliner, the fantastic team at Northampton Theatre Royal as well as WL for supplying the rig".
Photos courtesy of Manuel Harlan.
Share this story