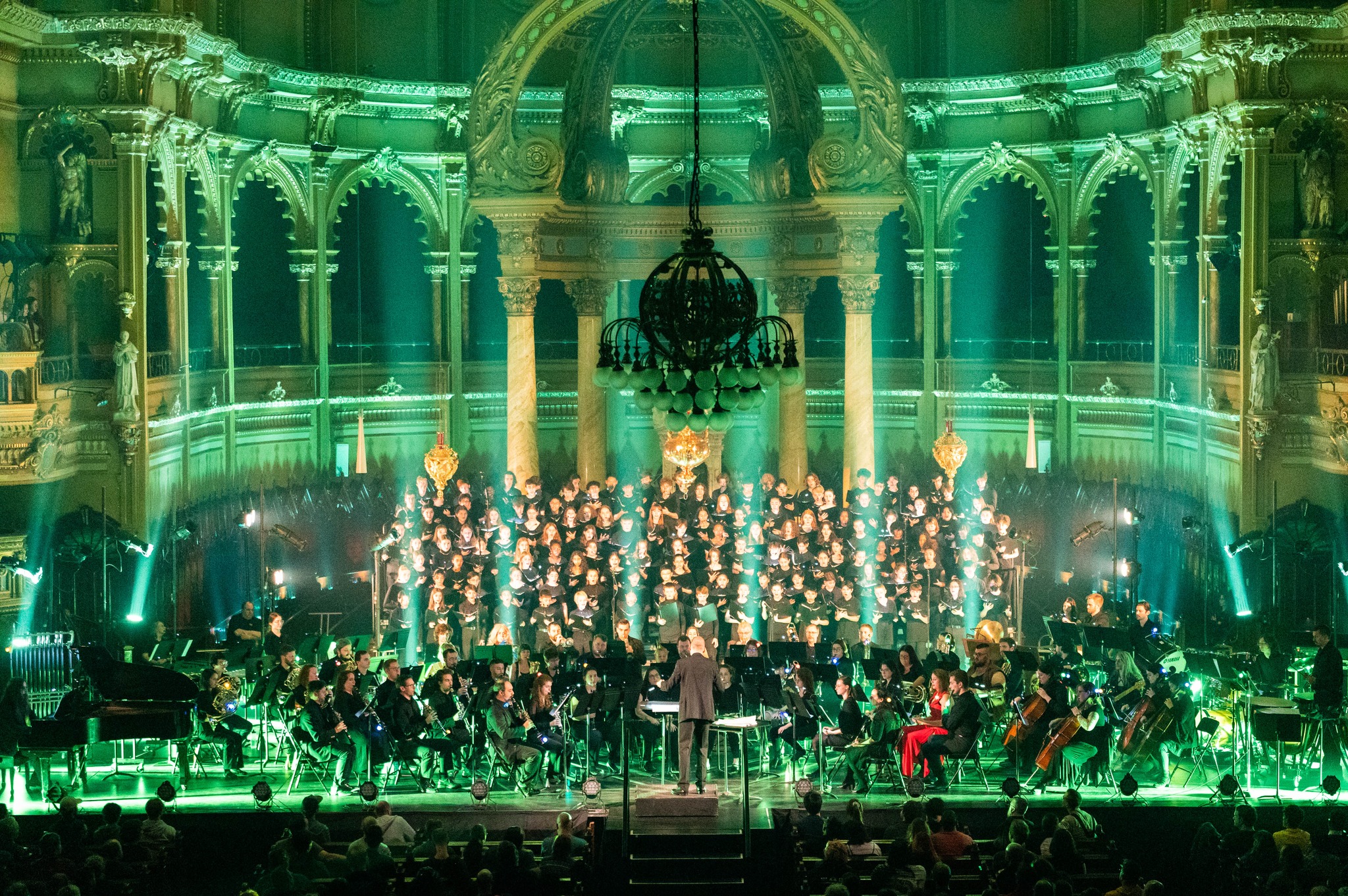 Photo credit: Vincent Mesure Photographe.
At their best, creative works do more than captivate us through the power of  their originality, they also inspire us to take our own journey of imagination. Such is the case with Hironobu Sakaguchi's "Final Fantasy" series, which has been hailed as "the gateway to the enchanting world of role playing games."
Today, 15 years after the first installment in this internationally acclaimed video game series, Final Fantasy continues to inspire.  This was plain to see (and hear) at Saint-Jean Baptiste church in Montreal on November 12 when L'Orchestre de Jeux Vidéo performed Materia Symphony – Final Fantasy VII.
Featuring music from various soundtracks in the series, the 55-minute concert, and accompanying lighting design by Érik Nowosielski-Lamoureux, captured the evocative power of this on-going tale about an eco-warrior's struggle against a mega corporation in a dystopian world, complete with its nightmarish Mako reactor.
"To prepare myself for this show, I sat down with the conductor of the orchestra, Jonathan Dagenais, and went through the whole symphony with him, discussing what each theme represented in the video game," said Nowosielski-Lamoureux. "He is a big fan of this game, so it was easy for him to describe what every part of the symphony represented."
Taking this information, Nowosielski-Lamoureux proceed to tell this fantastical story in colour with help from CHAUVET Professional R2X Wash and COLORado 1-Tri Tour fixtures supplied by Ambiofonik of Laval, Quebec.
"The most important part of this design was the colour palette," he explained. "Each colour represented a character in the game, or a key moment. For example, when each character's theme would come, I would use colours of their clothing or accessories to represent their arrivals. In other cases, I relied on colours to represent some physical location. The game mostly happens in a city that is grey and green. At one point, the main character goes outside into the real world and we can see a blue sky. I lit up the top of the church in blue to represent that moment."
During the critical scene at the Mako reactor, green lighting was used to represent the magical liquid form of the planet's life source. To create an eerie apocalyptic industrial feeling, Nowosielski-Lamoureux accented this green hue with cold white light.
Key to helping the Québécois lighting designer create his colour narrative were his rig's 12 Rogue R2X Wash fixtures. He positioned three of these RGBW  units on 4'6" high pipes on each side of the stage, using them to light the orchestra and for aerial effects. The remaining six washes were position on the deck in front of the choir and called on to back light the orchestra creating crossing aerial patterns.
"The R2X Wash was a big highlight of this show for me," said Nowosielski-Lamoureux. "Their output was impressive; their zoom range and colours were very good. It's a wonderful fixture for the price. I had the chance to use MK2 wash in the same venue, and I loved them. I wasn't sure how the Rogues would compare, but  they did everything I wanted them to do. I'm grateful to my supplier, Ambiofonik!"
Also adding to the colourized storytelling, were the rig's 12 COLORado 1-Tri Tour fixtures, which were arranged in front of the stage. From this position, the RGB washes created big punchy looks, accenting key moments in the performance.
Lighting a symphonic show devoted to something as complex as Final Fantasy, required intricate programming, according to Nowosielski-Lamoureux. "I had more than 400 cues, all timed in the musical score," he said. "I would follow the score and count the music to enter each cue at the right time."
Programming challenges notwithstanding, it was  creating the right blend of colours that was the focal point of Nowosielski-Lamoureux's attention. "My palette decisions were inspired by characters and pivotal moments in the game," he said. "Because of this, I often found myself working with desaturated colours that I don't typically use."
In the end, though, he says he "really loved playing with different colours, adding that it gave him "inspiration for future shows." Like so many others around the world, this talented designer provides yet another example of how Final Fantasy tends to inspire new ideas.
Share this story