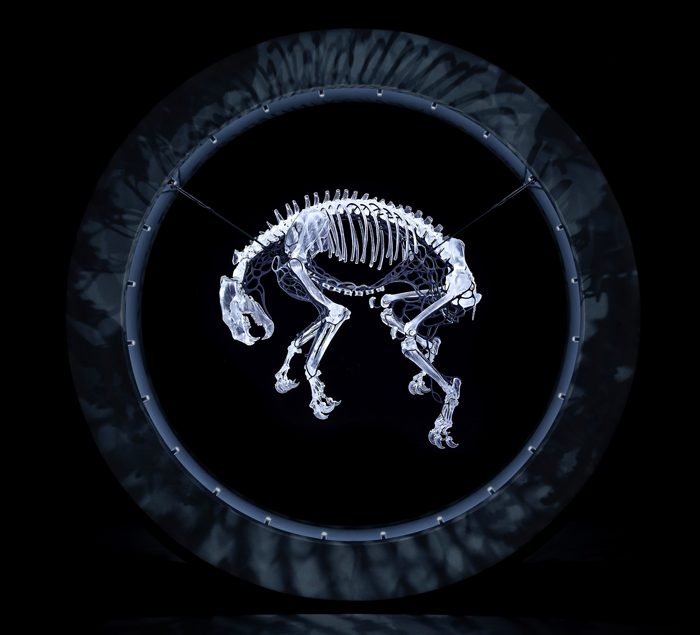 ERCO Lighting are delighted to announce a new collaboration with British Artist Matthew Penn. Matthew Penn and ERCO have a long-standing relationship, with Matthew using ERCO luminaires to not only illuminate his artwork, but harnessing the light as a crucial tool from concept to completion of his iconic creations. For Matthew the light is very much, a part of the art.
In his latest project, Matthew Penn illuminates the message of climate change and biodiversity loss into one common globally visual language, fusing art and conservation, The Fragile Fight.
Contemporary British artist Matthew Penn and his Fragile Fight project have recreated and articulated the entire skeletons of selected endangered species in cast crystal glass, highlighting the fragility of nature and the delicate balance which our climate and actions play on our fractured natural world. Working closely with ERCO, Penn has orchestrated a 'one of a kind' fusion of art and conservation.
The first entire skeletal artwork, the female polar bear, took a year to create and was completed a few days before the country and the world experienced record-breaking temperatures directly attributed to Climate Change caused by humans. This symbolic and powerful piece of artwork, developed over 20 years, has been completed at one of the most crucial times for our planet.
This exquisite sculpture, was created with over 200 individually cast crystal bones and 24 ERCO spotlights fabricated directly into the art itself. These elements are compositionally assembled in a foetal position, as a juxtaposition of the life, death and fragility of our natural world. Representing the protective womb and cycle of life, the skeleton is set within a 1.5 tonne monolithic circle, precisely illuminated by ERCO, using the miniaturised Eclipse spotlights size XS with Narrow spot light distribution and Parscan spotlights.
An integral part of the art is the colour temperature. To create the cool icy effect, which is cast across the sculptures, Penn used 4000k luminaires with an adaptable ERCO fish lens to further increase the ice-like hue.
Each light fitting represents the 24 hours of the day, highlighting the delicate path we tread with time. The light brings depth and dimension to these intricate pieces and truly amplifies the message of The Fragile Fight.
The power of this visual masterpiece is palpable. The crystal glass Polar Bear, along with the other extinct or endangered species skeletons, symbolises the actions and reactions that every individual, company and country must take during our fractured present to prevent a shattered future for all life.
The skeleton and its skull were exhibited at 10 Downing Street to launch the COP-26 climate change event. Now complete, the artwork will go on a global tour, spreading its message and showcasing its solutions.
ERCO's UK Showroom, will play host to The Fragile Fight exhibit early 2023, bringing this incredible art and message to preserve our natural world to the heart of London. Exhibition dates to be announced soon.
Photo Credit: Matthew Penn.
Share this story