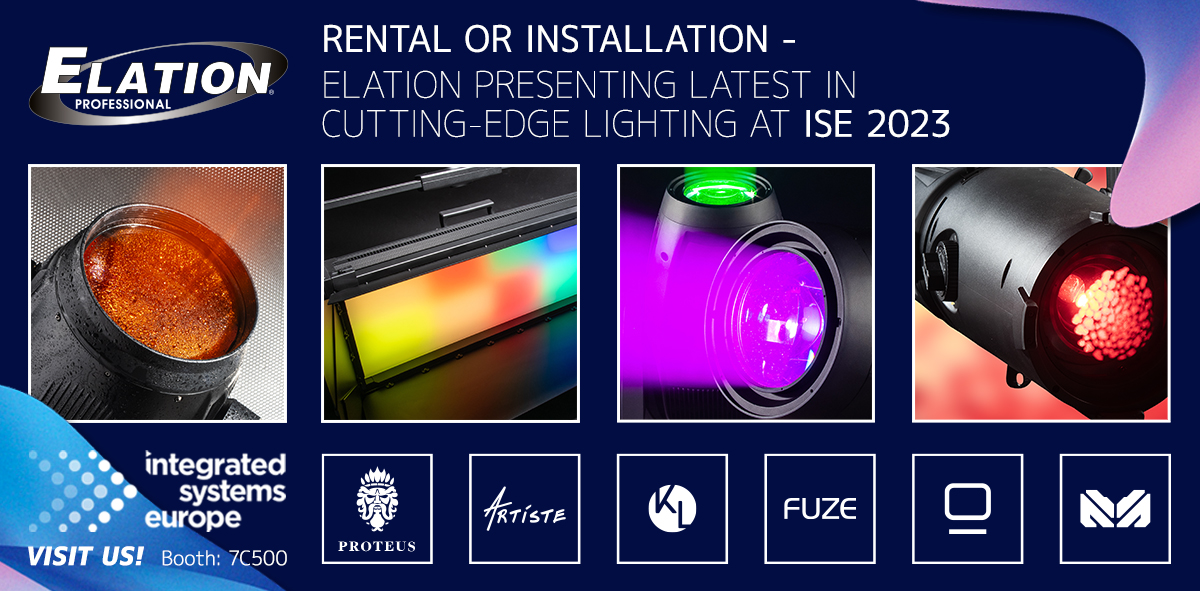 It's a new year and whether you're looking for professional lighting for a rental project or install-quality lighting for an entertainment venue, Elation has a lighting solution to fit your need. Visit Stand 7C500 at the upcoming ISE Show in Barcelona (January 31 – February 3) to learn all about Elation's newest cutting-edge products.
On hand will be the latest in Elation's industry leading IP65 Proteus™ line, including the new 75,000-lumen Proteus Brutus™ LED wash effects moving head, the powerful Proteus Excalibur™ sky beam, the linear Proteus Rayzor Blade™ LED wash and FX light, and the big brother to the popular Proteus Rayzor 760 LED wash effects luminaire, the Proteus Rayzor 1960™.
New fixtures in Elation's high-performance, high-value Fuze™ series will also be shown, including the full-color-spectrum Fuze MAX Spot™/Profile™ LED moving heads, and the full-spectrum Fuze Wash 500™ LED Fresnel moving head. Visitors can also get up close with new luminaires in Elation's broadcast-optimized KL™ series, including the full-color KL Profile FC™ ellipsoidal framing fixture, and KL Panel XL™/KL Panel XL IP™, a bigger, brighter and bolder version of Elation's popular KL Panel™ LED soft light.
Visitors will have a chance to demo the new NX1™ from Obsidian Control Systems, a scalable, full-featured lighting console that offers the complete ONYX experience without compromises in an ultra-compact package. Magmatic will be showing the high-output Magma Fog 1500 IP™, a new water-based fog machine for professional applications of all types, along with other atmospheric effects.
ISE 2023 will take place at Fira Barcelona Gran Via, 31 January – 3 February 2023. For more information or to register, visit iseurope.org. Use A1 Lighting's special code 'a1lightingmag' for FREE registration.
Share this story