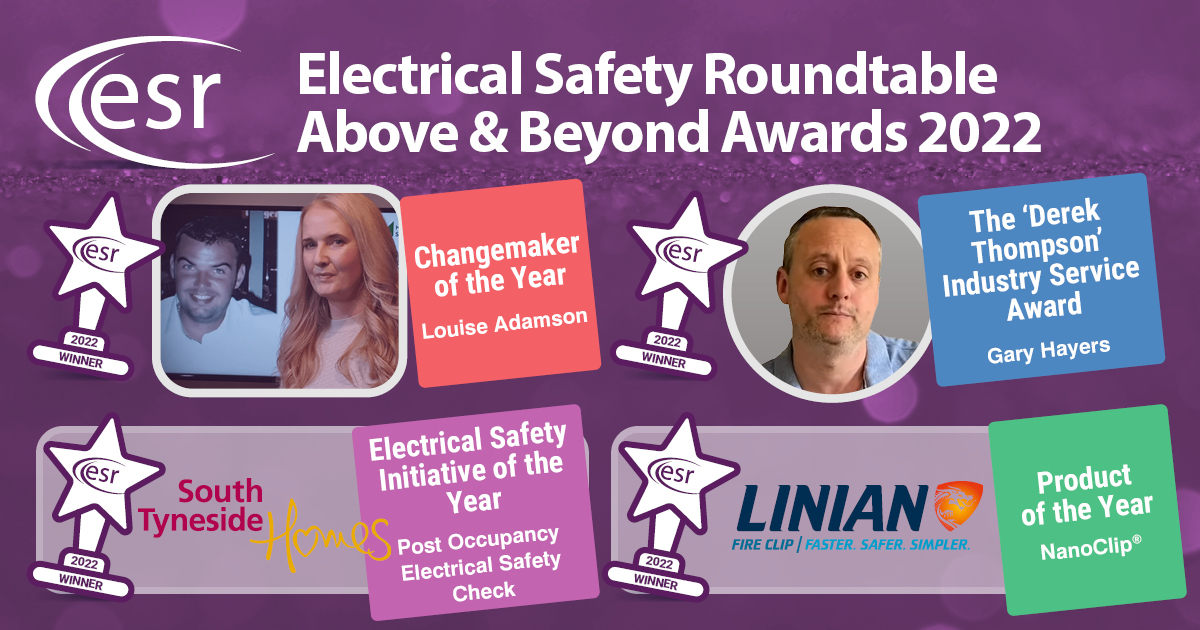 The Electrical Safety Roundtable is delighted to announce the winners of the Above and Beyond Awards 2022!  The awards were created to recognise and celebrate individuals and organisations who go above and beyond their legal duty as they strive to enhance and improve electrical safety in the workplace. With four categories, applications were very varied and the judging panel's discussions concluded the following winners, as well as issuing two highly commended awards.
Electrical Safety Initiative of the Year: South Tyneside Homes, Post Occupancy Electrical Safety Check
The initiative saw an electrical inspection being arranged 1-2 months after tenancy begins, which allowed for continuity testing of high load circuits and for white good appliances to be checked against the Electrical Safety First product recall list. This also meant tenants could have face to face time with electricians in case of any queries. The judges agreed that the development and implementation of the structured solution following the identification of an increase in electrical oriented domestic fires was highly successful, and the initiative helped improve awareness of electrical safety through greater customer engagement.
Product of the Year: LINIAN, NanoClip™
The NanoClip™ is LINIAN's smallest cable fixing and is designed to prevent the premature collapse of cables designed as well as to protect firefighters in the event of a fire. The NanoClip™, lunched in October 2021, was specifically designed for use with fibre optic cables and other small diameter cables, and the judges agreed that the product had enabled a safer way of working on or around electrical systems
Changemaker of the Year: Louise Adamson
To decide the Changemaker of the Year award, Louise Adamson had to step out of the room due to her position as a judge. The judges unanimously agreed that the telling of Michael's Story, together with how Louise continues to promote this message tirelessly to all levels of the industry across the UK, has been inspirational in raising the focus on electrical safety and safe isolation.
Derek Thompson Industry Service Award: Gary Hayers
The Derek Thompson Industry Service award was created in honour of Derek Thompson, a strong advocate of enhancing electrical safety for decades, who sadly passed away last year. The judges agreed that Gary Hayers was a worthy recipient of the award for his GSH Electrical YouTube channel. The channel is a highly effective and popular online resource for learners, with over 113,000 subscribers and 700 training videos.
Highly Commended: Mark Allison and believe housing
The judges issued two highly commended awards to recognise believe housing for their Electrical Safety Week in the Electrical Safety Initiative of the Year category and Mark Allison in the Changemaker of the Year category for his work with Apprentice 121.
The Electrical Safety Roundtable would like to thank all those who applied for the Above and Beyond Awards, along with the judges for their work on deciding the worthy winners.
To read more about the awards and the winners, click here: https://awards.electricalsafetyroundtable.co.uk/
Share this story